First Time on a Balloon Flight?
Find answers about your balloon flight with Cappadocia Voyager Balloons. To make your adventure more enjoyable, these balloon ride FAQ's explain what you can expect before, during, and after your balloon ride with Cappadocia Voyager Balloons.
If you can't find the answer you're looking for here, please contact us and we'll be glad to help.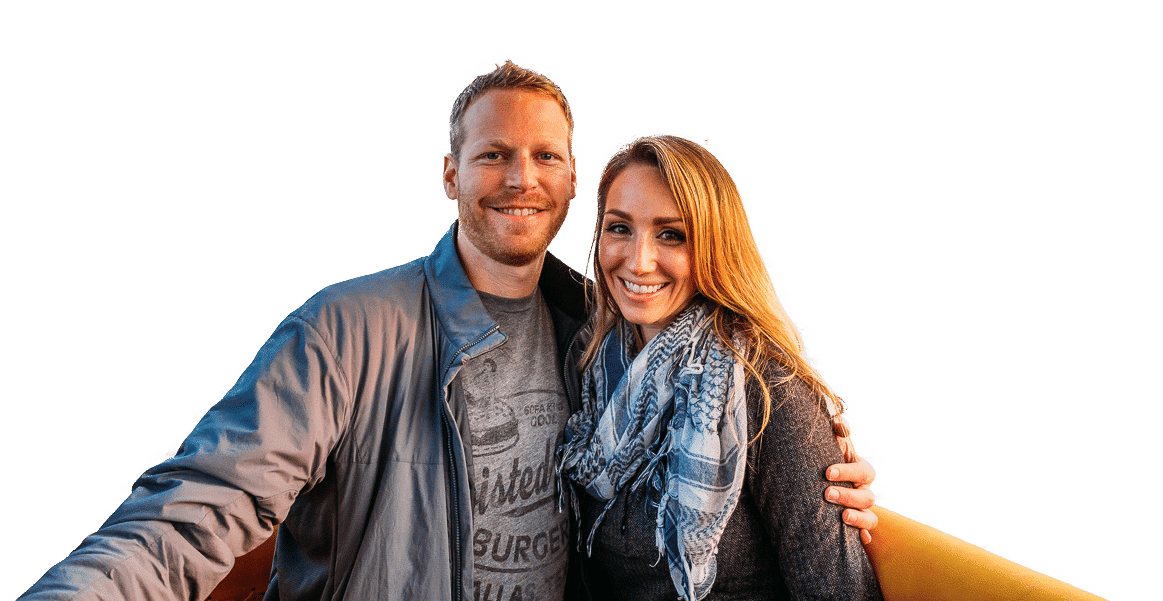 HOW HOT AIR BALLOONS WORK?
Warmer air rises in cooler air. This is because hot air is lighter than cool air as it has less mass per unit of volume. Mass can be defined by the measure of how much matter something contains. The actual balloon (referred to as the envelope) has to be so large as it takes such a large amount of heated air to lift it off the ground.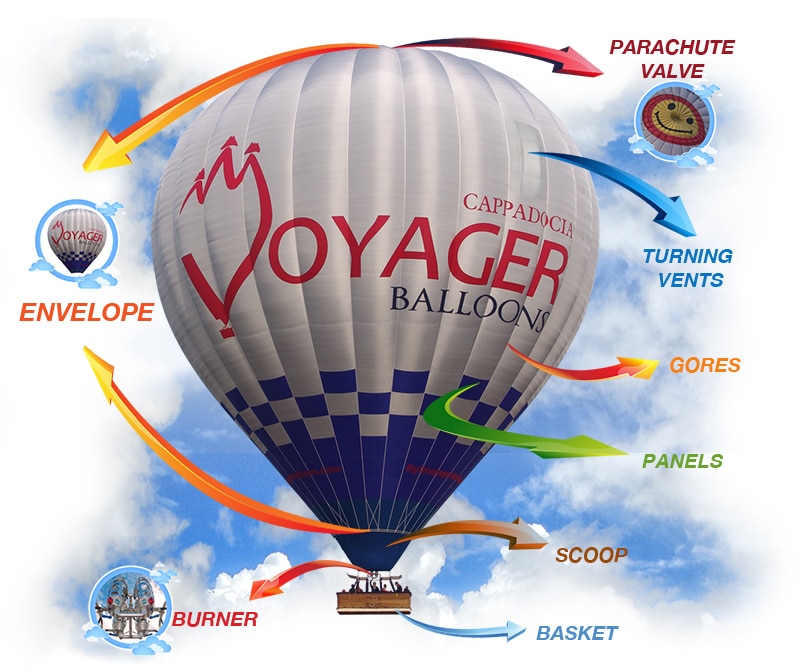 By heating the air inside the balloon with the burner, it becomes lighter than the cooler air on the outside, causing the balloon to float upwards. To land, the air inside is allowed to cool meaning the balloon slowly begins to descend. An altimeter (to measure altitude), a rate-of-climb meter, and an envelope temperature gauge are the only instruments used in the balloon. Amazingly, the pilot can control the altitude of the balloon within a matter of a few feet !
If the pilot wants to move in a particular direction they simply ascend and descend to the appropriate level and ride with the wind. This is however limited to the variation in wind direction on the flight day.
The envelope is made of reinforced nylon fabric called as hyperlast. It is very light (1.3 ounces per square yard) but very strong (125 pounds per square inch). The envelope is treated with a polyurethane coating to make it more airtight and to help the fabric withstand the ultraviolet rays of the sun. The pilot and passengers ride in a basket that is made of woven wicker, which is both strong and flexible. The basket is connected to the envelope by stainless steel suspension cables.
Before Your Balloon Flight
During Your Balloon Flight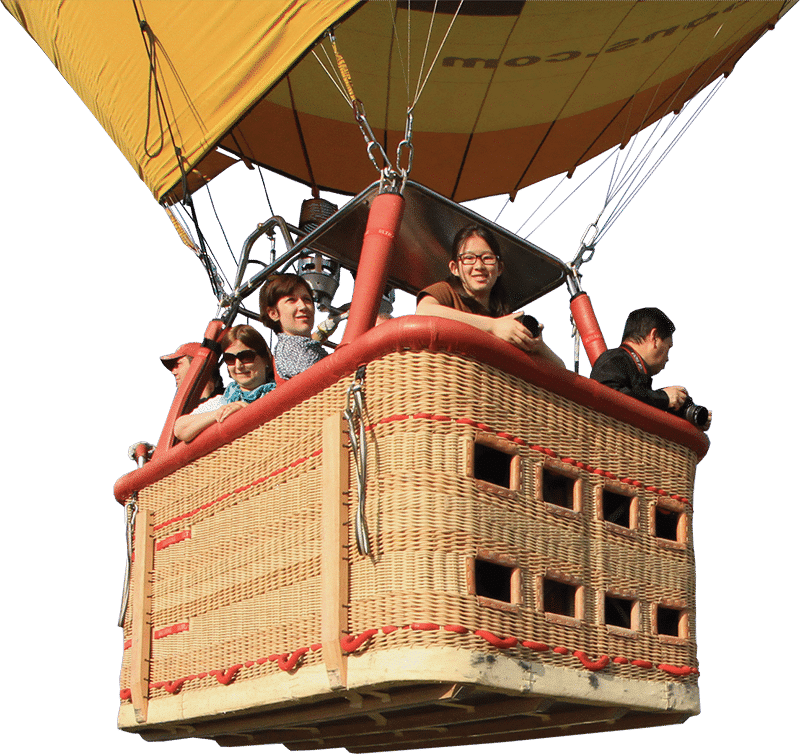 HOW MANY PEOPLE WILL BE IN THE BALLOON?
Our balloons range from a pilot plus two passenger up to pilot plus 24 passengers at most. On a standard flight you will be joining a group of other people. All our hot air balloon baskets have foot-holes to help you climb in and out, but if you feel you may need a little more assistance, our crew members will happily help. Our hot air balloon baskets are divided into compartments for your safety, and larger balloon baskets are sectioned into four passenger compartments with lots of room in each.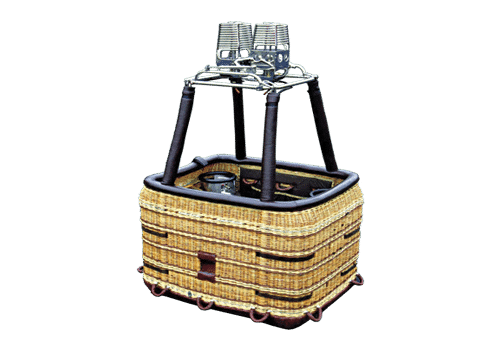 Open Basket
Pilot plus 2 passengers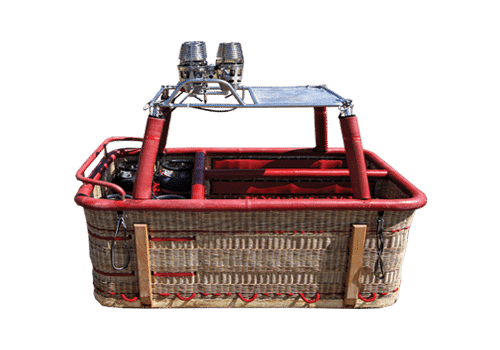 Single T Basket
Pilot plus 12 passengers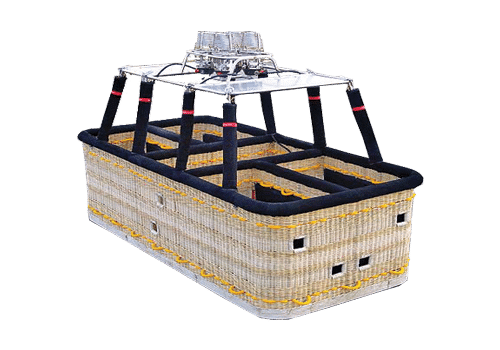 Double T Basket
Pilot plus 16 passengers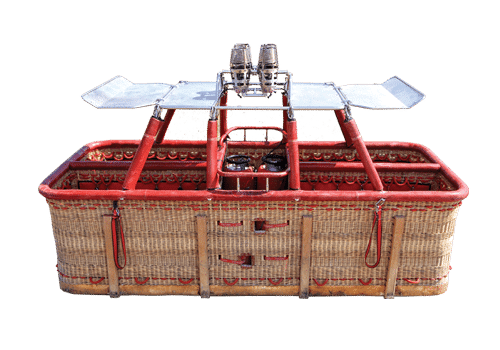 Double T Basket
Pilot plus 20 passengers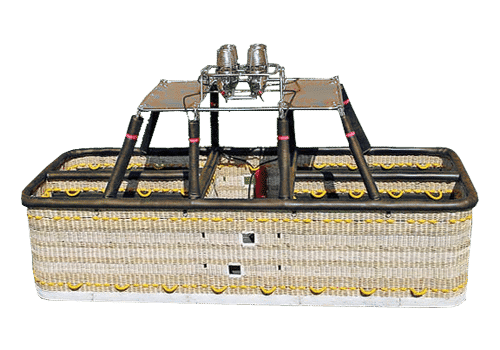 Double T basket
Pilot plus 24 passengers
There are 2 main types of basket, Open and T-partition. Open is obviously an open space where the passengers, pilot and fuel are all housed in the basket in just 1 compartment and T-partition is where the basket is split into sections so the passengers can be separated from the pilot and canisters.
After Your Balloon Flight
A balloon flight is dependent on wind speed and direction. Every flight is different and our landing sites vary.
Our chase crew are Cappadocia Voyager Balloons employees who follow the balloon via radio contact with the pilot throughout the balloon flight. They also meet you at landing, pack up the balloon and return you to your hotel at Cappadocia.
After landing, enjoy a celebratory champagne toast and tasty snacks to end your safe and memorable hot air balloon adventure.
The chase crew will follow the balloon while you're flying and meet at the landing site. After the celebration of landing, the passengers will board our minibuses and head back to their hotels.
Like any other service provider, a gratuity is always appreciated. Like the saying goes "if you like the ride, tip your guide!"
"Once in a lifetime flying adventure"