ULTRA Comfort Flight is our new premium flight type. The idea of Ultra Comfort Flight is max. 16 people in a 24 people size basket as the same as our previous Comfort Flight and 75 minutes to 90 minutes flight for our guests to enjoy Cappadocia like our previous Deluxe Flights.  We think of our clients would appreciate more spacious room in our balloon. Our pilots say that "Duration of '75 minutes to 90 minutes' is an ideal time both to have the feeling of flying and to see 'a lot' in this unique landscape".  Please Ask for 2023 Special Rates
We make your transfer with luxury mini buses from your hotel to our restaurant one hour prior to sunrise. We will inform you the day before about the pick-up time in the morning from your hotel.
We offer you open buffet breakfast, and we offer you filtered coffee and croissant in our take-off area.
After the decision of the launch site by our pilots, we transfer the passengers. To offer the best possible flight and the experience, we choose the take-off site for the day's flight according to the direction and the strength of the wind. One of life's most fascinating sights is the set-up and inflation of a hot air balloon.
After the flight, we celebrate the landing with champagne. We will give you flight certificates as the memory of the day.
We give you a commemorative flight certificate written by a calligraph, suitable for framing, and memories to last a lifetime.
SERVICE BACK TO YOUR HOTEL
We will transfer you back to your hotel in the day of your flight. Also if requested we can take yo to the location you want in Cappadocia.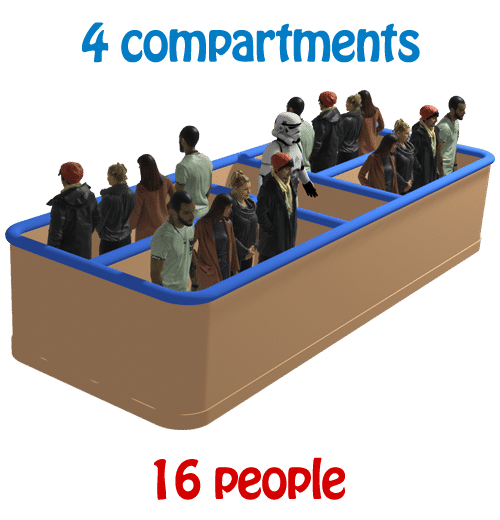 Max. 16 PEOPLE
Min. 75 minutes to 90 minutes flight
360 Euro per person
10 Euro discount for cash payment
Check 2023 Promotions
Max. 16 people in the basket

Spacious basket which can get 24 people

More leg room in the basket

Easy to move in the basket
4 people in each compartment

Photographer pilots who understands you

Best flight type to shoot SELFIE
In summary, comfort flights appeal to our standard flight passengers
who desire an even higher level of comfort during the flight